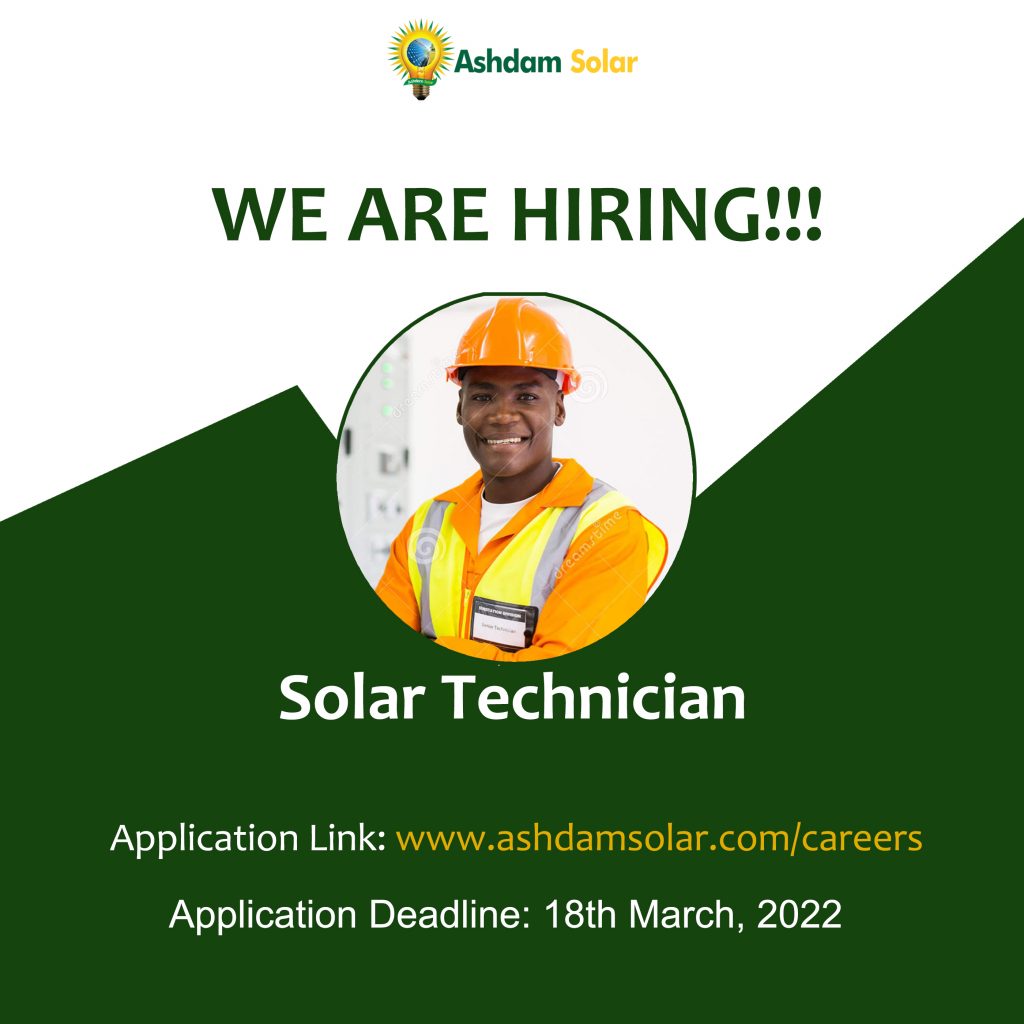 JOB TITLE: SOLAR TECHNICIAN/INSTALLER
LOCATION: IBADAN, OYO STATE, NIGERIA
Ashdam Solar Co. Ltd is a dynamic renewable energy company in Nigeria, providing clean, affordable and uninterrupted smart energy solutions.  Our team spirit has a bright future; it is for us a life – long commitment in the greener world.
We are looking for passionate and efficient Solar Technician/Installers to join our team. As  Solar Technician/Installer, the candidates will be responsible for installation, troubleshooting and maintenance of solar photovoltaic (PV) systems.
Job Description/Responsibilities
Mount solar rails on roof tops and other structures as required.
Install, maintain and troubleshoot Solar panels, Inverters, Batteries, Charge Controllers. Electrical Integration and other components of Solar Installation
Configures PV systems based on site conditions and customers' needs and expectations;
Follows building standards and codes when installing panels and support structures.
Inspects electrical installation and wiring.
Tests operating voltages; calibrates to ensure systems are within acceptable power limits.
Meet with customers and discuss project details in order to accommodate their needs
Collaborate with sales team to design and customize solar systems for customers
Performs routine maintenance on PV systems.
Have technical presentations with prospective clients, work closely with other staffs across the company supporting improvements in Quality, New Product Development and all other departments.
Perform site audits (take measurements, photographs, notes, and energy audit of project sites)
Install, troubleshoot and maintain projects
Utilize software systems to design systems and record progress of various tasks
Submit and pick up client packages at various location as needed
Coordinate, organize and prepare jobsite for inspection process
Support branch staff with administrative support, including organization and maintenance of project folders, uploads of pictures, completion of finished folders and work processes
Performs other related duties as assigned.
Requirements
Good knowledge of PV equipment and installation.
Good knowledge of electrical wiring and equipment.
Good analytical and problem-solving skills.
Ability to read building, electrical plans and equipment manuals.
Ability to use hand and power tools to install Solar PV components.
Familiarity with productivity tools, including Google Workspace and Microsoft Office 
Strong organizational and time management skills
Quick to collaborate and coordinate with team members when necessary
Strong math and critical reasoning skills
Ability to establish and maintain effective working relationships with all department across the company and other internal and external contacts
Willingness to learn new technologies and adapt to changing technical environmentProfessional and personal credibility
A self-motivated individual who is able to work independently and is results orientated, with the ability to meet deadlines.
Must operate within division policy guidelines using independent judgment in achieving assigned objectives
Must be able to communicate in English Language (speak, hear and write) effectively to various intellectual levels.
Travel to different cities and towns across Nigeria to perform duties as assigned
Good customer service skills
Education and Experience:
Minimum of a diploma in a related/relevant discipline
Good knowledge/experience in the electrical installation industry is preferred
Must be computer literate
Vocational or technical school training is an advantage.
Experience in a similar role is an advantage
Physical Demands:
Have full range of mobility in upper and lower body
Be able to work in various positions, including, but not limited to, stooping, standing, bending over, sitting, kneeling and squatting for extended periods of time
Be able to lift, pull and push materials and equipment to complete assigned job tasks
Be able to lift 50 kg of weight frequently throughout assigned workday
Ability to set up, secure and climb a 20-foot ladder onto rooftop of various angles and surfaces. Not afraid of working at heights
Application Deadline
30, November 2022