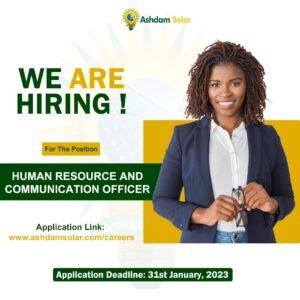 JOB TITLE: HUMAN RESOURCE AND COMMUNICATION OFFICER
LOCATION: IBADAN, OYO STATE, NIGERIA
Ashdam Solar Co. Ltd is a dynamic renewable energy company in Nigeria, providing clean, affordable and uninterrupted smart energy solutions.  Our team spirit has a bright future; it is for us a life – long commitment in the greener world.
We are looking for passionate Human Resource and Communication Officer to join our team. As a Human Resource and Communication Officer, the candidate will be responsible for hiring, developing and looking after employees. The candidate will also be responsible for developing and distribution of information to promote the organization.
Job Description/Responsibilities
Support the development and implementation of HR initiatives and systems
Preparing job descriptions, advertising vacant positions, and managing the employment process.
Orientating new employees and training existing employees.
Monitoring employee performance.
Ensuring that all employees are organized and satisfied in their work environment.
Ensuring employees have correct pay and benefits
Delivering compensation and benefit comparison reports to the executive team
Promoting equality, health and safety within the company
Develop staff training and development programs
Developing and implementing systematic staff development procedures.
Providing counseling on policies and procedures.
Ensuring meticulous implementation of payroll and benefits administration.
Communicating with staff about issues affecting their performance.
Support the management on disciplinary and grievance issues
Ensuring accurate and proper record-keeping of employee information.
Review employment and working conditions to ensure legal compliance.
Advising executives on matters of salaries, redundancy and employment law
Recording and processing confidential information
Manage the company's or organization's social media communications.
Create internal and external newsletters for the organization.
Collaborate with management to develop and implement an effective communications strategy based on target audience.
Write, edit, and distribute content, including publications, press releases, website content, annual reports, speeches, and other marketing material that communicates the organization's activities, products and/or services.
Respond to media inquiries, arrange interviews, and act as a spokesperson for the organization.
Seek opportunities to enhance the reputation of the brand, and coordinate publicity events as required.
Maintain records of media coverage and collate analytics and metrics.
Performs other related duties as assigned.
Requirements
Able to engage in meaningful negotiation and resolution.
Knowledge of employment legislation.
Understanding of HR functions and best practices.
Familiarity with productivity tools, including Google Workspace and Microsoft Office 
Strong organizational and time management skills
Quick to collaborate and coordinate with team members when necessary
Ability to establish and maintain effective working relationships with all department across the company and other internal and external contacts
Willingness to learn new technologies and adapt to changing technical environment
Professional and personal credibility
A self-motivated individual who is able to work independently and is results orientated, with the ability to meet deadlines.
Must operate within division policy guidelines using independent judgment in achieving assigned objectives
Must be able to communicate in English Language (speak, hear and write) effectively to various intellectual levels.
Excellent time management skills, public speaking skills, problem-solving skills and both verbal and written communication skills
Exceptional organization skills, leadership and interpersonal skills
Willing to travel to different cities and towns across Nigeria to perform duties as assigned
The ability to remain calm in stressful situations
Thorough attention to detail
Education and Experience:
Minimum of a diploma in a related/relevant discipline
Must be computer literate
Experience in a similar role is an advantage
Application Deadline
31` January, 2023
CLICK HERE TO APPLY  (Google account required)