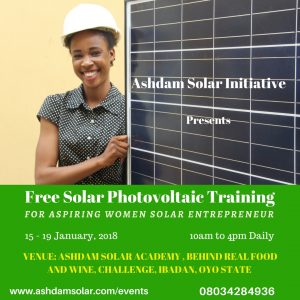 Do you want to be a Solar Woman Entrepreneur? Empowered to generate good income for yourself and family? Do you want to be a tech woman and want to excel in a male dominated industry?
If you answer yes to these questions then this solar energy training is for you.
Ashdam Solar Initiative has aim of closing the gender gap in the renewable energy industry and is offering free solar energy training slots for selected women at the Ashdam Solar Academy January 2018 training
Selected women will be contacted Wednesday 10th January 2018 and most be able to attend the training from 15th to 19th January, 2018
10am to 4pm daily
Accommodation is exclusive
Acquire knowledge on solar electrification, backup systems, and inverters. From energy auditing to energy management/efficiency, system design, applications and implementations.
Practicals and Theoretical sessions all inclusive
Our Solar Energy Training is very interactive. We use our 10 years of experience to guide you in the solar energy industry.
Participants join Ashdam Solar Academy Facebook Alumni Closed Group for on going support after the training
Training Venue is at Ashdam Solar Company Limited
S7/588, Lagos road, Behind Real Food and Wine, Challenge Ibadan, Oyo State.
Limited space available!!!
Endeavor to register on time to confirm your seat at the training
Contact us now for more information 08034284936, 09065724265
Or send an email to solaracademy@ashdamsolar.com
RegisterHERE