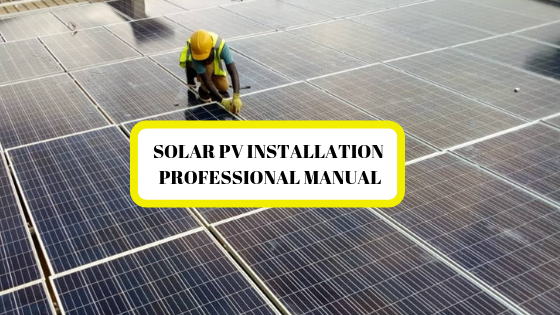 Solar energy is the present and future solution to energy insecurity in the nation, it combats climate change and is a very lucrative money income source.
Ashdam Solar Academy solar PV installation professional manual is the right manual for all aspiring solar installer, entrepreneurs or renewable energy lovers. 
The manual is an ideal reference for all professional in the renewable energy industry.
The manual content includes detailed guide on the following topics;
Benefits of renewable energy technology
Relationship between current, voltage, power and energy
Series and Parallel Connections for professional solar installation
How to do professional energy audit with examples and ready to use template
How to practice or recommend Energy Efficiency and Energy Management
Solar Installation tools and usage
Solar Installation and Workshop Safety
Step – by – step solar and inverter installation guide
Solar Panel sizing
Inverter sizing
Battery sizing
Solar charge controller sizing
Cable sizing
Preparations required for site installation
Solar installation, electrical safety and system protective measures
Understanding battery types, terminologies and battery maintenance
And lots more
ORDER for the Manual NOW for N4,500 and get a free practical video on how to install solar panel on the roof top using easily accessible materials.
PAY N4,500 only NOW
Note that the free practical video offer is for a *limited time
Customized download link will be sent to your email within 2 working hours after payment confirmation.
How order for the solar installation professional e manual and make payment
Option 1: Secure online payment with immediate payment confirmation (N4,500 Only, no extra charges)
PAY SECURELY ONLINE NOW Solar PV Installation Professional Manual
Option 2: Bank transfer or deposit payment
 Payment of N4,500 can also be made to the following account details:
Account Name: Ashdam Solar Co. Ltd.
Bank: Access Bank
Account Number: 0796174776
After payment, send payment confirmation to solaracademy@ashdamsolar.com or to WhatsApp contact 08034284936
Customized download link will be sent to your email with 2 working hours after payment confirmation.
 For more information or enquiries contact:
Ashdam Solar Academy
+2348034284936 or +2349065724265
Head Office: S7/588b, Behind Real Food and Wine, Challenge Ibadan, Oyo State, Nigeria
REGISTER NOW to join our next physical training (Online training coming soon)
Follow Ashdam Solar Academy on Facebook
Follow Ashdam Solar Company on Facebook