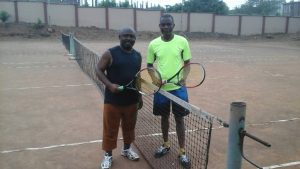 THE Ashdam Solar 10th anniversary tennis tournament kicked off on Tuesday 31st October, 2017 on the clay court of the Ibadan Tennis Club (ITC).

No fewer than 34 players registered for the intra-club tournament sponsored by a member of ITC, Mr Yemi Asaleye.

In one of the matches decided, Alhaji T. Busari defeated Mr A. Atoyebi in a pro-set singles 8-3.
Also taking part in the clay court tournament are messrs coach Yekini Kasali, Innocent Agwuncha, Matthew Okoye, A. Orebiyi, A. Olaniyan, J. Okoromadu, A. Olosun, M. Adedire, S. Oyewole, A. Baderin, S. Romiluyi, F. Oyewole, D. Gambo, L. Iranloye, F. Oyetoso, Y. Oshilaja, L. Hassan, S. Ogun, W. Owosho, P. Faboyinde and B. Adebiyi.

Others are S. Ijidale, I. Adumati, W. Jolaoso, W. Akinyooye, S. Ogunsola, MM Balogun, J. Taiwo, F. Ibe, S. Lawal, F. Ojurongbe and F Abiri.

According to Asaleye, the tournament is to further strengthen unity among members of the club and also create a healthy rivalry among members.
…………
Caption: Busari (left) and his opponent, Atoyebi before their game.
Reference Here