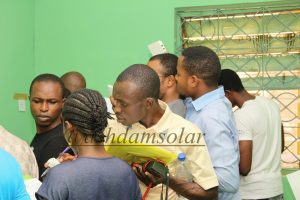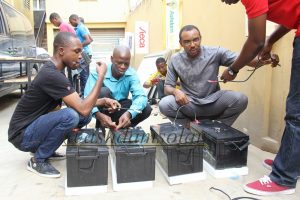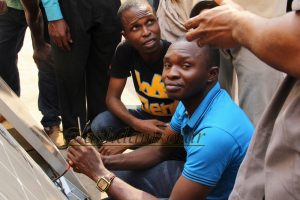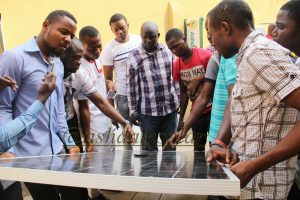 Acquire knowledge on solar electrification, backup systems, and inverters. From energy auditing to energy management/efficiency, system design, applications and implementations.
Practicals and Theoretical sessions all inclusive
Ashdam Solar Academy Training is very interactive. We use our 11 years of experience to guide you in the solar energy industry.
Our training curriculum focus on international design and installation standards in relation in excelling in Nigerian solar energy industry.
Course content is as follows;
• Introduction to renewable energy and solar energy technology
• Climate Change and its impacts
• Introduction to basic electricity and terminologies
• Introduction to Series and Parallel Connections
• Introduction to Energy Efficiency, Energy Management and Energy Auditing
• Installation tools and usage
• Safety Basics
• Types of Solar PV systems and applications
• Solar PV system components and identification
• Solar Panel sizing
• Inverter sizing
• Battery sizing
• Solar charge controller sizing
• Cable sizing
• Introduction to Solar system and backup installation
• Preparations required for site installation
• Inverter installation and electrical load isolation
• Customizing solar systems
• Solar installation and electrical safety and system protective measures
• Hands on roof installation
• Troubleshooting and maintenance of inverter and solar systems
• Mapping your future in renewable energy industry
• Entrepreneurship Training
• Customer relationship training
• Marketing strategy
• Practical sessions
Participants join our Facebook Alumni Closed Group for on going support after the training
The training fee covers the following;
-Training presentations and Solar Manual (soft copies)
-Certificate of participation
-Daily Refreshments
Learn how to design, install and sell solar photovoltaic (PV) systems.
Contact 08034284936 for more details.
Training Date: 5 – 9 October, 2020
Time: 10am to 4pm Daily
Venue: Ashdam Solar Academy, S7/588B,Behind Real Food and Wine, Lagos Road, Challenge Ibadan, Oyo State
Register HERE
[pff-paystack id="1138″]
or make direct transfer or cash into one of the following account;
Account Name: ASHDAM SOLAR CO. LTD.
Sterling Bank Account Number: 0073706835


After payment text "Registered" to 08034284936

Training Fee : N50,000 (N40,000 for early bird registration)
For more details, call 08034284936 or 09065724265
N.B
Early bird registration ends on 18 September, 2020

With early bird registration you get N10,000 discount
Training fee must be paid in full before training commencement date
P.P.S. Very Limited Seats Available.
P.P.P.S. Reserve your Seat Now by Paying the registration fee
Pay into Ashdam Solar Sterling Bank Account Number: 0073706835
Send payment confirmation to email solaracademy@ashdamsolar.com or WhatsApp 08034284936 to secure your seat at the training
Limited space available!!
Please endeavor to register on time to confirm your seat at the training
Contact us now for more information 08034284936, 09065724265
Or send an email to solaracademy@ashdamsolar.com