Solar Energy Training with international standards
Overview
This Intensive Solar Energy training will teach participants how solar photovoltaic systems and backup (inverter) systems work, how they are designed, and how systems are installed. The program will cover the fundamentals of PV, such as how voltage, current, power and energy interrelate. The program provide detailed knowledge about the components required for successful installations (inverter, solar panel, charge controllers, batteries, etc.) and how to appropriately calculate and customize the components. The program also covers energy audit and energy efficiency implementation techniques. The program covers installation safety practices, system maintenance, and solar entrepreneurship.
Target Audience
This course program is designed for those who intend to pursue a professional career in solar PV system design and installation such as solar installers, contractors, project managers, engineers, electricians, quality inspectors, technical support crew and customer service professionals in the solar energy industry.
The course is also ideal for everyone who as a result of already working in this field needs to deepen knowledge about the theory and practical aspects of PV system installations. It is also perfect for complete beginners with zero solar experience. The course therefore unites participants from a wide range of personal backgrounds, such as students, NYSC corp members, electricians, engineers, energy professionals, architects, contractors, project developers, salespeople and anyone who has interest in renewable energy and wants to have good understanding of solar photovoltaic systems and installation.
Learning Outcomes
Participants of this solar energy training will be able to :
Understand different types of renewable energy sources
Properly design and size solar photovoltaic power systems.
Demonstrate safe working practices
Identify and describe basic functions of different components of PV systems
Understand features of solar PV system configurations and applications: DC systems, stand-alone, Hybrid systems/grid connected
Understand AC and DC electricity and explain their differences
Explain the relationship between: power, voltage, current, electric charge and energy
Perform professional energy audits
Give energy efficiency and energy management advice to clients
Describe the differences among various PV cell technologies
Identify meters used with PV systems and key points of meter use and safety
Use energy meters and clamp on meters
Define and list characteristics of series and parallel circuits, and review the application of these connections to ensure system compatibility
Define factors that impact the amount of peak sun hours reaching the array
Identify tilt angle and orientation that provides maximum energy production
Identify data required to size and design solar PV systems
Identify common PV mounting options; list advantages and disadvantages of different mounting options
Identify the different types of inverter technologies and list their advantages and disadvantages
Describe some installation tips and techniques for the different types of solar PV systems
Determine the correct wiring configuration of PV modules for a given application
Identify terminology for the various circuits in PV systems
Perform basic overcurrent device sizing for DC and AC PV system circuits
Identify potential jobsite hazards and opportunities for additional safety training
Determine proper Personal Protective Equipment (PPE) for PV installation and commissioning tasks
Install solar panels on rooftop using a roof model
Perform solar inverter integration with existing house wiring using an electric circuit simulation board
Identify important functions of solar charge controller
Know different types of battery technology available in the market with their advantages and disadvantages
Know how to read battery cycle life
Understand how to choose the right battery type for specific site and customers
Understand how to maintain battery banks for optimal life span
Understand the steps required for solar system installation
Identify tools required for solar system installation and their proper usage
Interpret manufacturers data sheet for solar PV system components such as solar panels, inverters, charge controllers and batteries
OUR GOALS;
1. To reduce unemployment in Nigeria by raising and grooming solar energy and energy efficiency professionals who will then be qualified for jobs in the sector.
2. Create competent solar installers across Nigeria with international standards
3. Provide manpower for small and large scale solar installations across Nigeria.
4. Build a strong network of solar installers and entrepreneurs
5. Ensure gender inclusion in the renewable energy industry
Course duration: 3 weeks virtual, 5 days physical
Course Fee:
N50,000
50% scholarship for female participants
The registration fee covers;
Virtual Training: 8th to 26th February, 2021
Physical Training: 1st to 5th March, 2021
Practical / Hands-on engagement
Assessment
Certificate of Completion
Tea break and lunch during the the physical training
Training presentations (soft copies)
Participants join our Alumni group for on-going support after the training and access to industry progressive information.
Few pictures from past training events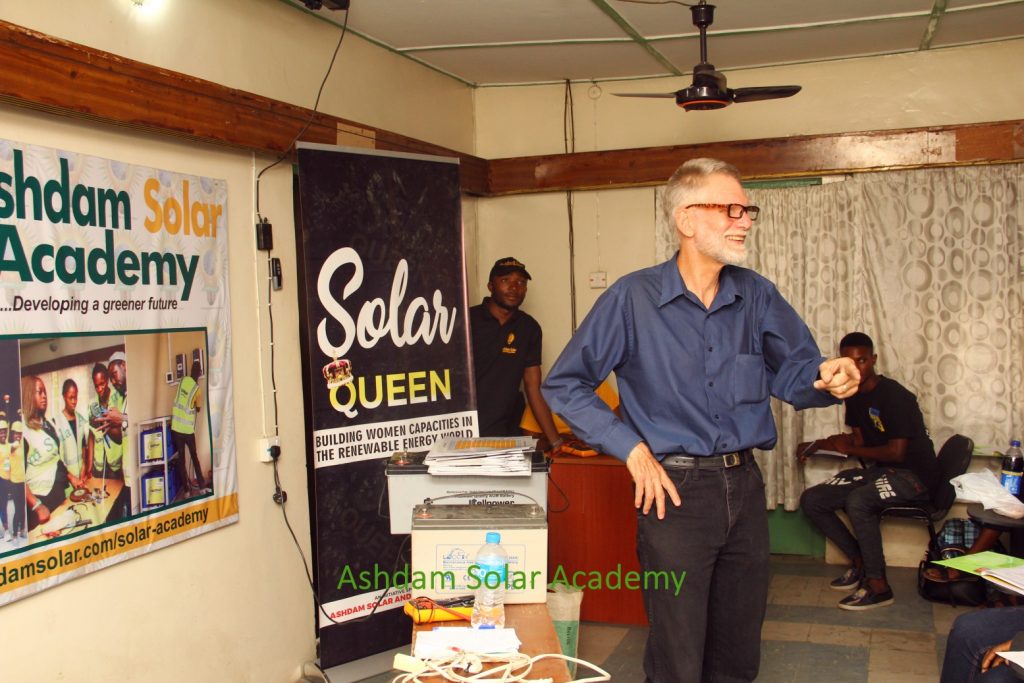 Contact 09065724265 or 08034284936 for inquiries
Email us HERE
Training Dates
Virtual Training: 8th to 26th February, 2021
Physical Training: 1st to 5th March, 2021
Physical Training Venue: Ashdam Solar Academy, S7/588B, Behind Real Food and Wine, Lagos Road, Challenge, Ibadan , Oyo State
Payment can be made to – ASHDAM SOLAR CO. LTD.
Sterling Bank Account Number: 0073706835
Access Bank Account Number: 0796174776
Or paid securely online below
[pff-paystack id="1138″]