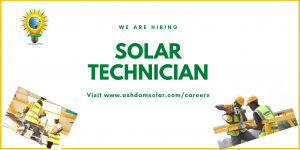 Ashdam Solar Co. Ltd is a leading renewable energy company in Nigeria, providing clean, affordable and uninterrupted smart energy solutions. Incorporated in 2007, over the years, we have built our reputation by providing quality alternative energy solutions to the Nigerian community with exceptional client satisfaction. We are dedicated to analyzing clients' energy requirements and coming up with appropriate customized energy solutions. Our team spirit has a bright future; it is for us a life – long commitment in the greener world.
Job Description
Technicians play a key role in the running of the Technical Department, reporting on the quality management system, coordinating quality efficiency projects/installations.
Co-ordinate the Design, Repairs and servicing of Electrical Installations.
Ability to Install Solar Power System
Ability to do troubleshooting and repair of Inverters.
Technicians are also  expected to provide administrative assistance to the management, have technical presentations with prospective clients, work closely with other staffs across the company supporting improvements in Quality, New Product Development and all other departments.
Perform site audits (take measurements, photographs, notes, and energy audit of project sites)
Meet with customers and discuss project details in order to accommodate their needs
Install, troubleshoot and maintain projects
Utilize software systems to record progress of various tasks
Submit and pick up client packages at various location as needed
Coordinate, organize and prepare job site for inspection process
Read blueprints or technical diagrams
Install and maintain wiring, control systems
Inspect electrical components
Identify electrical problems with a variety of testing devices
Repair or replace wiring, equipment, or fixtures using hand tools and power tools
Follow state and local building regulations based on the National Electric Code
Direct and train workers to install, maintain, or repair electrical wiring or equipment
Support branch staff with administrative support, including organization and maintenance of project folders, uploads of pictures and completion of finished folders
Requirements
Good knowledge/experience in the electrical and solar installation industry is preferred
Must be a motivated team player, looking to success
Willingness to learn new technologies and adapt to changing technical environment
Professional and personal credibility
Excellent customer service skills
Must have excellent attention to detail, be highly organised and flexible
Professional appearance and interaction
Excellent organizational and time management skills
A self-motivated individual who is able to work independently and is results orientated, with the ability to meet deadlines.
Excellent communication skills with ability to communicate at all levels within the organisation.
Must operate within division policy guidelines using independent judgment in achieving assigned objectives
Must comply with all safety policies, practices and procedures
Participate in proactive team efforts to achieve departmental and company goals
Ability to read, analyze, and interpret professional electrical documents and technical procedures,.
Proficient in basic computer skills e.g powerpoint, word processing, spreadsheets, etc.
Ability to multitask.
Must be able to communicate in English Language (speak, hear and write) effectively to various intellectual levels.
Physical Demands:
Have full range of mobility in upper and lower body
Be able to work in various positions, including, but not limited to, stooping, standing, bending over, sitting, kneeling and squatting for extended periods of time
Be able to lift, pull and push materials and equipment to complete assigned job tasks
Be able to lift 50 kg of weight frequently throughout assigned workday
Ability to set up, secure and climb a 20 foot ladder onto rooftop of various angles and surfaces
Education and Experience
OND in Electronics/Electrical Engineering or Physics Electronics or its equivalent with at least 1 year of related experience, or have 2-4 years equivalent experience in a related field, or equivalent combinations of education and experience
Note: Applicant must be willing to travel Nationwide for job related activities and work on weekends
Application Deadline: 28th March, 2020