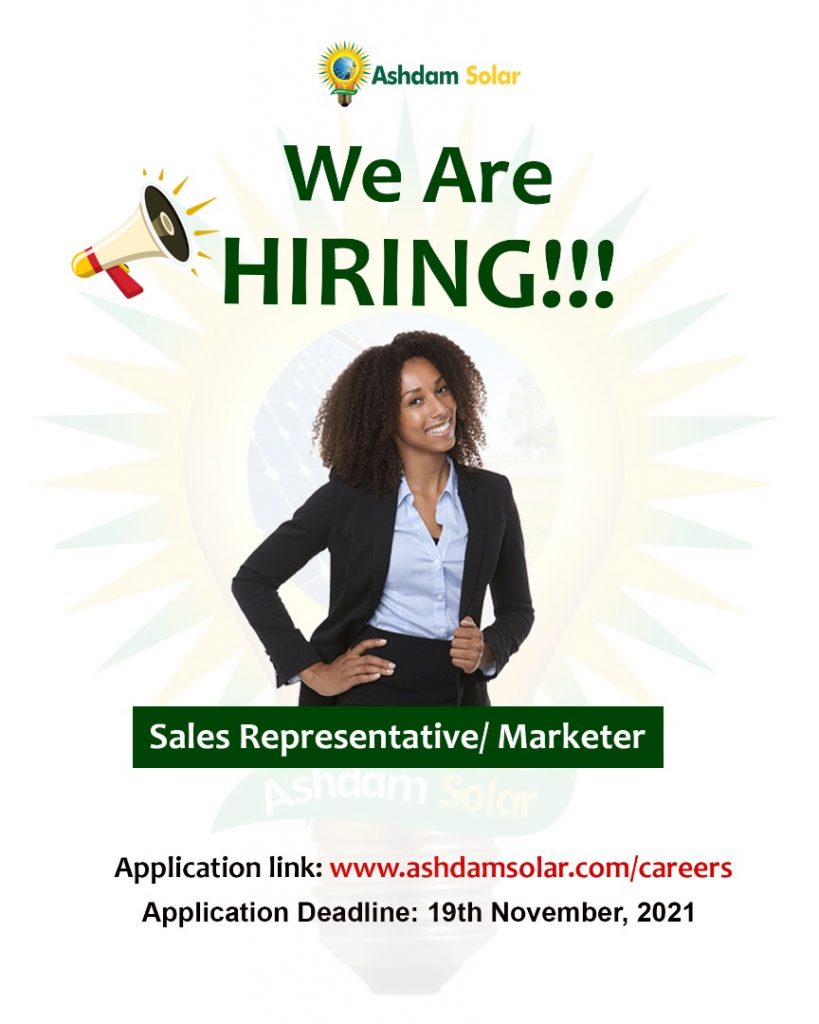 Ashdam Solar Co. Ltd is a dynamic renewable energy company in Nigeria, providing clean, affordable and uninterrupted smart energy solutions.  Our team spirit has a bright future; it is for us a life – long commitment in the greener world.
We are looking for a motivated and result oriented Solar Sales Representative/Marketer to join our team. As a Representative/Marketer, the candidate will be responsible for generating sales lead, follow up with clients, attend to enquiries both online and offline, convert leads to sales.
Job Title: Solar Sales and Marketing Representative
Location: Ibadan, Oyo State, Nigeria
Generate new leads and driving sales.
Dealing with customers inquiries on telephone, social media platforms, in-office, etc.
Devise marketing campaigns with the goal of increasing product awareness and increasing sales and profits.
Plan, organize, and execute marketing and sales programs.
Gather and report customer intelligence to the management.
Support all company initiatives, give actionable feedback, share best practices and serve as advocate and information source for company.
Attend trade shows and events to market product.
Develop understanding of product line and value chain.
Work with customers to find what they want, create solutions and ensure a smooth sales process.
Developing and presenting sales proposals.
Managing of e – sales platforms
Managing of website sales backend
Create clear and useful reports and recommendations for organizational use
Assist in administrative work
Support other team on process flow to ease the operations of the organization
Requirements
Ability to work with speed
Must be a motivated team player
Ability to build strong work relationships with clients and colleagues
Ability to drive sales targets
Ability to establish and maintain effective working relationships with all department across the company and other internal and external contacts
Willingness to learn new technologies and adapt to changing technical environment
Professional appearance, interaction and personal credibility
Excellent customer service skills
Must have excellent attention to detail, be highly organized and flexible
Excellent organizational and time management skills
A self-motivated individual who is able to work independently and is results orientated, with the ability to meet deadlines.
Proficient in basic computer skills e.g PowerPoint, word processing, spreadsheets, etc.
Ability to use technology tools such as Google workspace
Ability to multitask.
Must be able to communicate in English Language (speak, hear and write) effectively to various intellectual levels.
Qualifications
Minimum of OND or Bachelors Degree in relevant field.
Experience in a similar role is an advantage
Application Deadline
19th November, 2021.