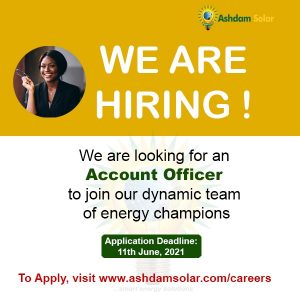 Ashdam Solar Co. Ltd is a dynamic renewable energy company in Nigeria, providing clean, affordable and uninterrupted smart energy solutions.  Our team spirit has a bright future; it is for us a life – long commitment in the greener world.
We are looking for a passionate and innovative Account Officer to join our team. As an Account Officer, the candidate will be responsible for keeping precise records of incoming and outgoing payments for our organization and ensuring financial policies compliance. This include arranging payment requests, making payments for services, verifying accounts payable and receivable, researching financial account activity, developing project financial models, ensuring tax remittance, among other duties. The successful candidate will be working closely with  Sales, Technical and Operations departments.
Job Title: Account Officer
Location: Ibadan, Oyo State, Nigeria
Job Description/Responsibilities
Process accounts payable and receivable
Maintaining accurate books on accounts payable and receivable, payroll, and daily financial entries and reconciliations.
 Perform daily accounting tasks such as financial reporting, general ledger entries, and record payments and adjustments.
Utilize database software to organize financial account information
Handle account inquiries from internal and external sources
Make regular contact with clients to ensure payment
Ensure company financial compliance, such as tax calculation and remittance
Perform internal audits on financial activities as necessary
Review both incoming and outgoing invoices
Generate financial reports for review regulatory authorities
Develop project financial models
Analyze projects financial data
Update and report assets stock and inventory 
Requirements
Familiarity with productivity tools, including Microsoft Office 
Experience using accounting software, such as Quickbooks 
Strong organizational and time management skills
Quick to collaborate and coordinate with team members when necessary
Prior experience working with financial accounts
Strong math and critical reasoning skills
Ability to establish and maintain effective working relationships with all department across the company and other internal and external contacts
Willingness to learn new technologies and adapt to changing technical environment
Professional and personal credibility
A self-motivated individual who is able to work independently and is results orientated, with the ability to meet deadlines.
Must operate within division policy guidelines using independent judgment in achieving assigned objectives
Must be able to communicate in English Language (speak, hear and write) effectively to various intellectual levels.
Note: The position is physical and not a virtual work
Qualifications
Minimum of Bachelors Degree in relevant field.
Experience in a similar role is an advantage
Application Deadline
11th June, 2021